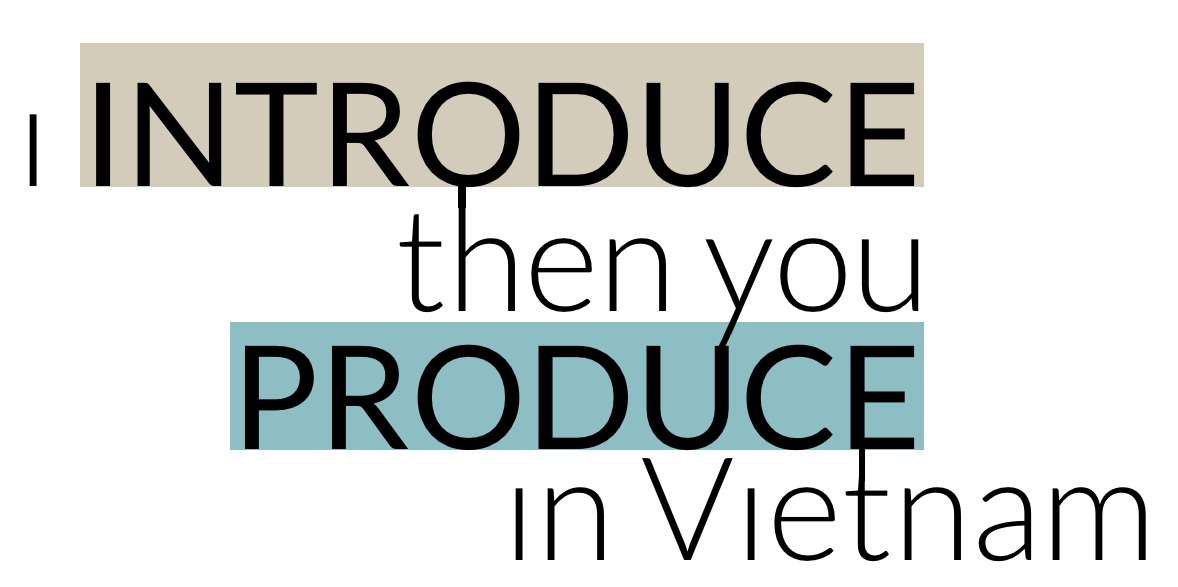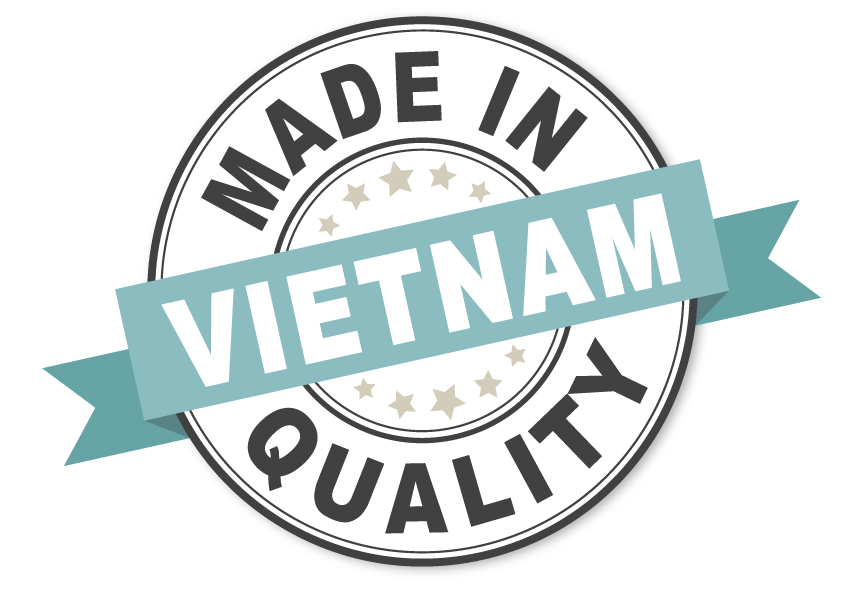 How Can I Serve You in Vietnam?
Hi, I built this webpage to promote Thai Son S.P Sewing Factory based in Ho Chi Minh City. They are garment industry experts in Vietnam. I can introduce you to them and many other factories. They specialize in cut and sew knitwear.

My name is Chris, I have been working in the Vietnam Garment Industry since 2008. My expertise is advising fashion start-ups and sourcing factories. If you have any questions about Vietnam garment manufacturing then contact me here. Would you like to speak with a garment industry expert in Vietnam?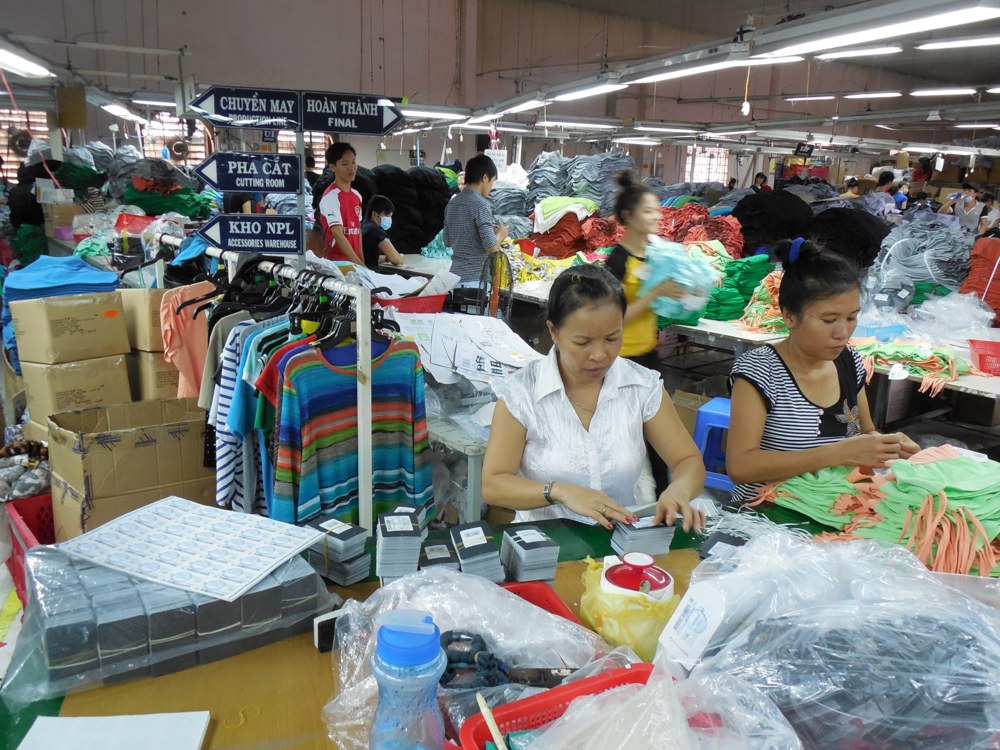 Chris Walker
Ho Chi Minh City, Vietnam
VSource Co., Ltd.
Thank you for your interest in our sewing factory in Vietnam. We have an open door policy. You are welcome to visit us to see for yourself. Below are pictures to give you a preview.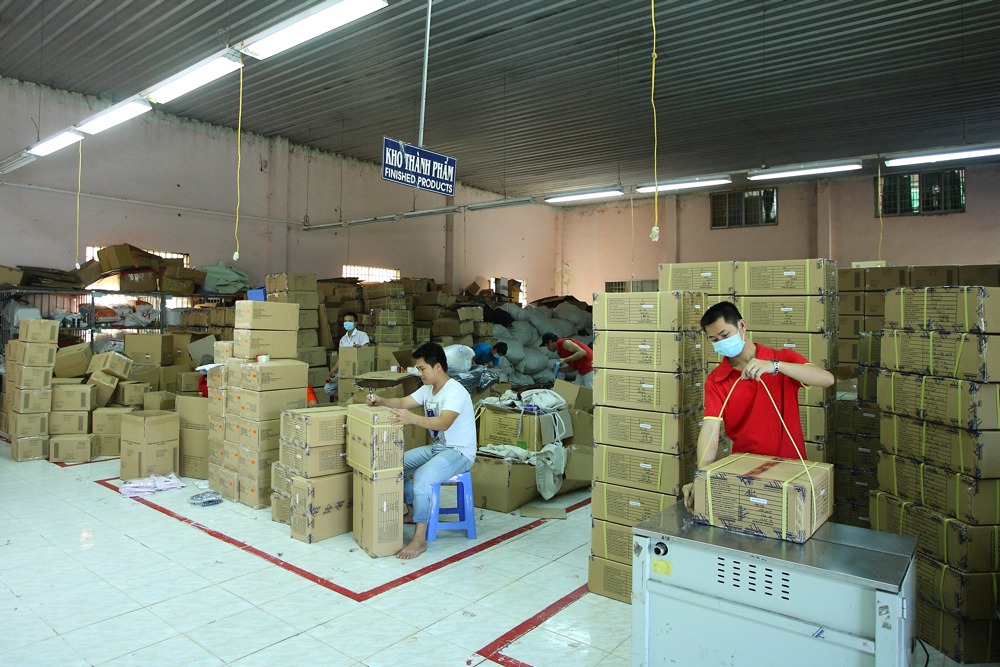 Read -> Learn -> Then contact the factory.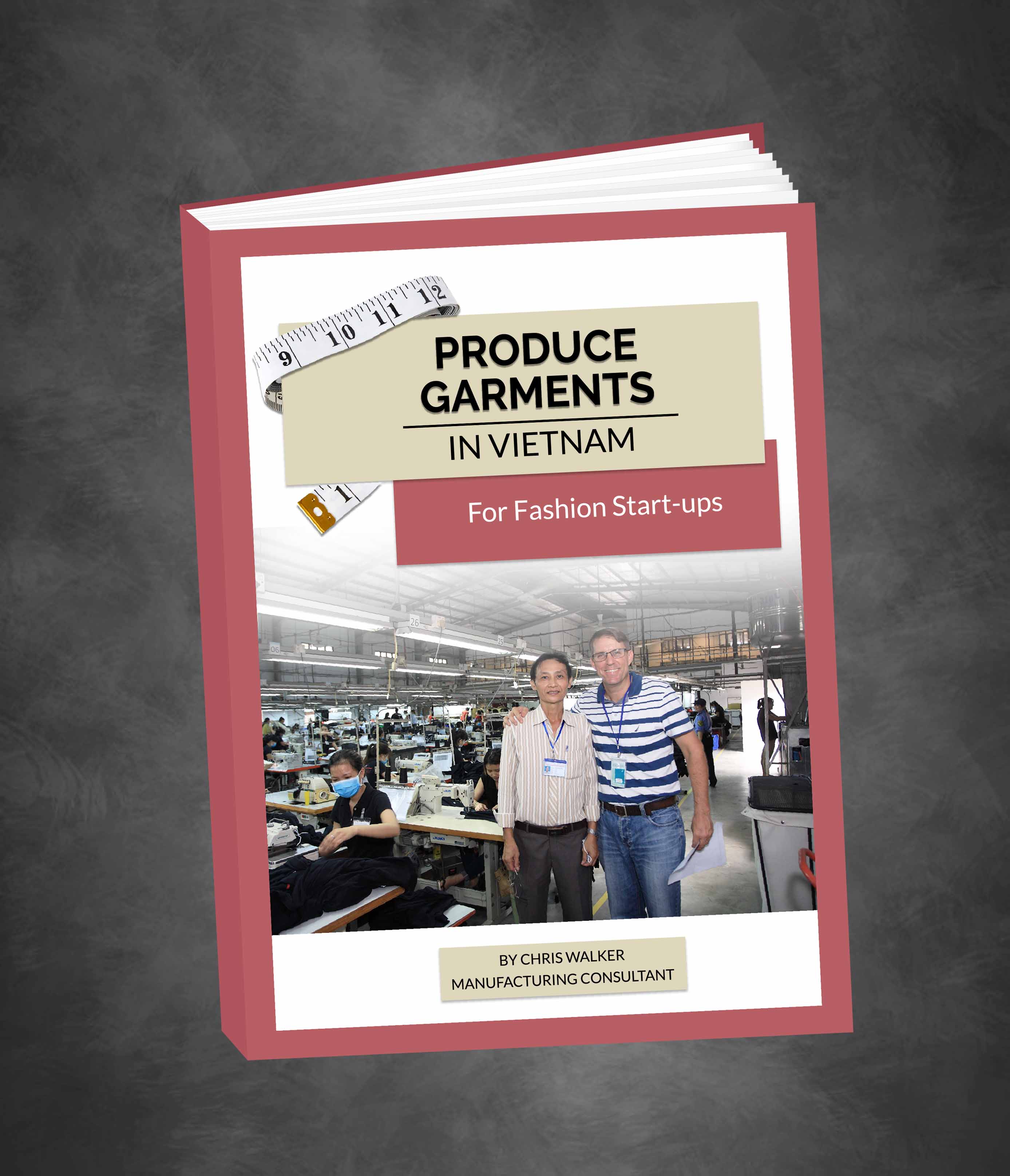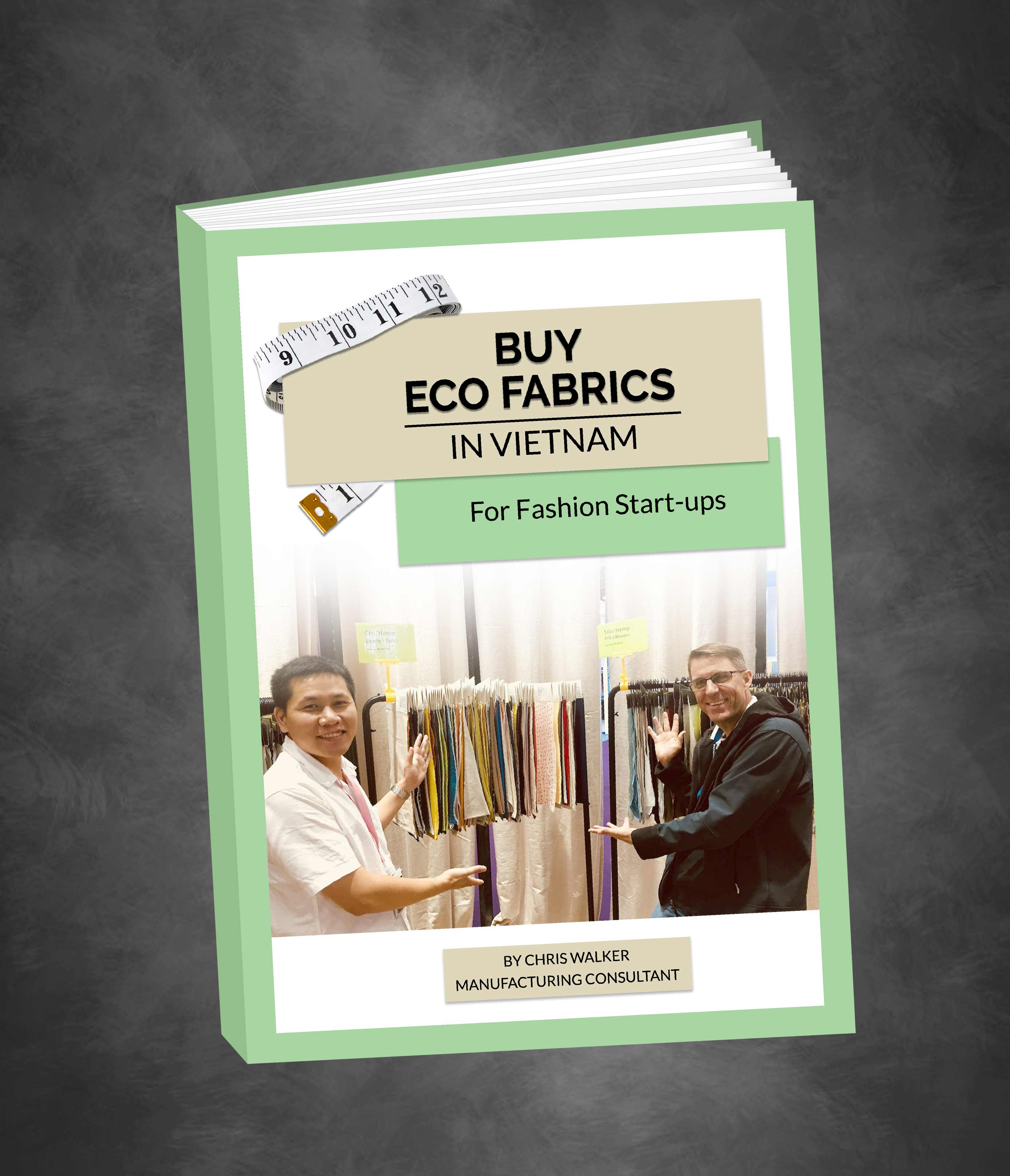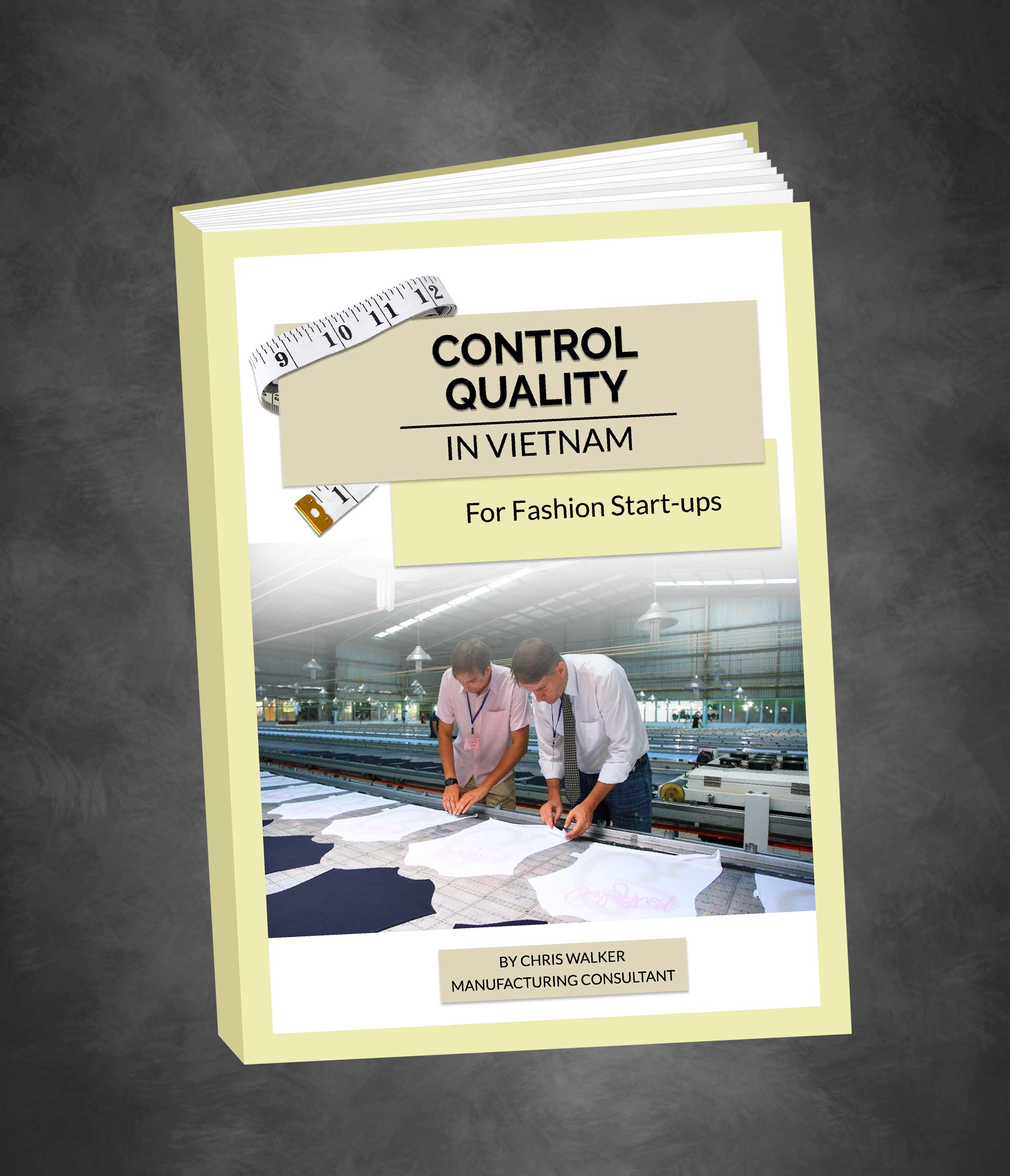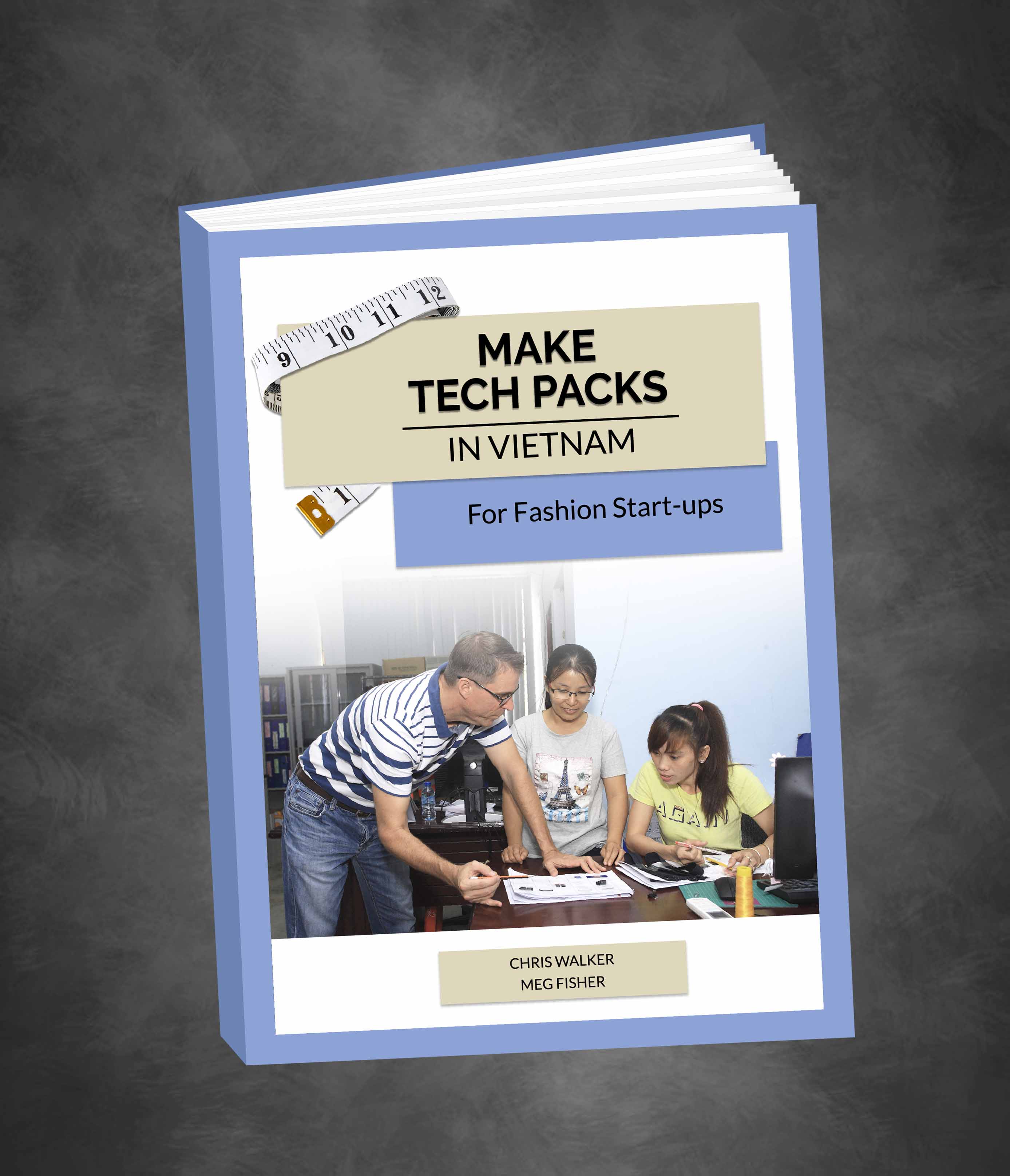 I wrote these books during my first few years
(@ 2008) working in the Vietnam garment industry. I write about basic knowledge and insider tips that I learned - to share with you.
If you are just starting out and need a jump start then I recommend you read my books before contacting factories.
For example, it is critical to know basic things like what is the difference between woven and knit fabric; what is different about viscose, rayon, tencel, modal and hemp; and what is the Acceptable Quality Level system?
Before you come please email us and confirm what you are looking for. If we can not do what you need done then no need to visit us and perhaps I can point you in the right direction. Remember that we can make any men, women or children style garment using cut and sew fabric (jersey-like fabric). Our MOQ is 2,000 pieces per style. Our lead time is 60 days. We don't make woven garments and we don't sell stock. Please contact me, Chris Walker, marketing manager to get started. I hope the Photos of Vietnam garment factory in Ho Chi Minh city give you a good impression of our factory.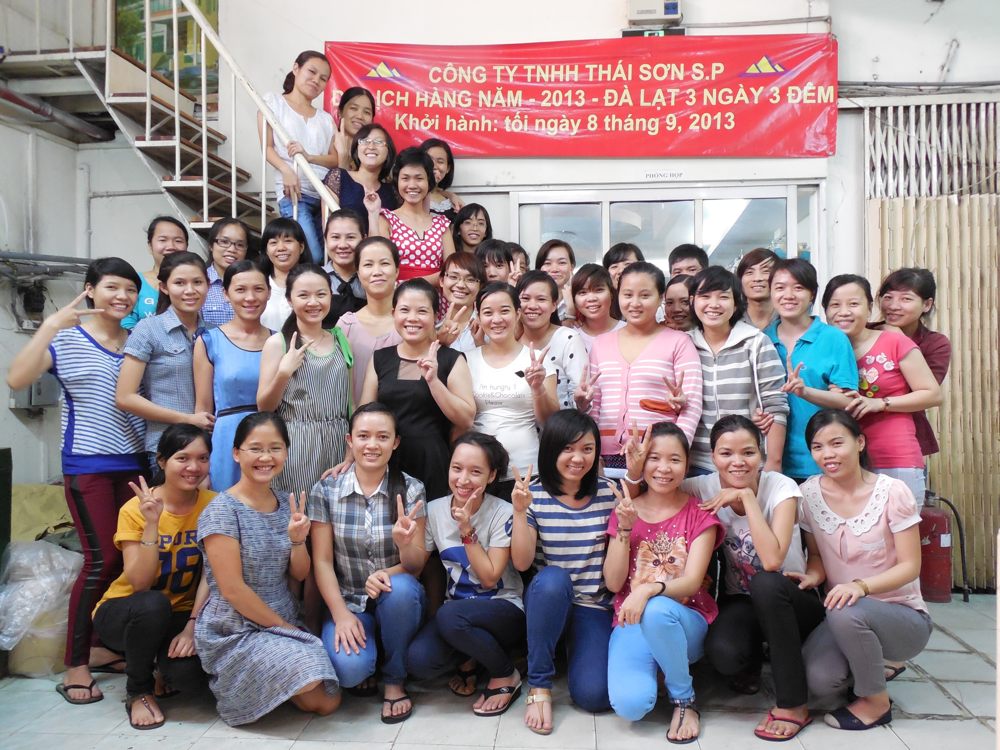 Front Gates of our two loactions: Thai Son S.P and Long Ha Chin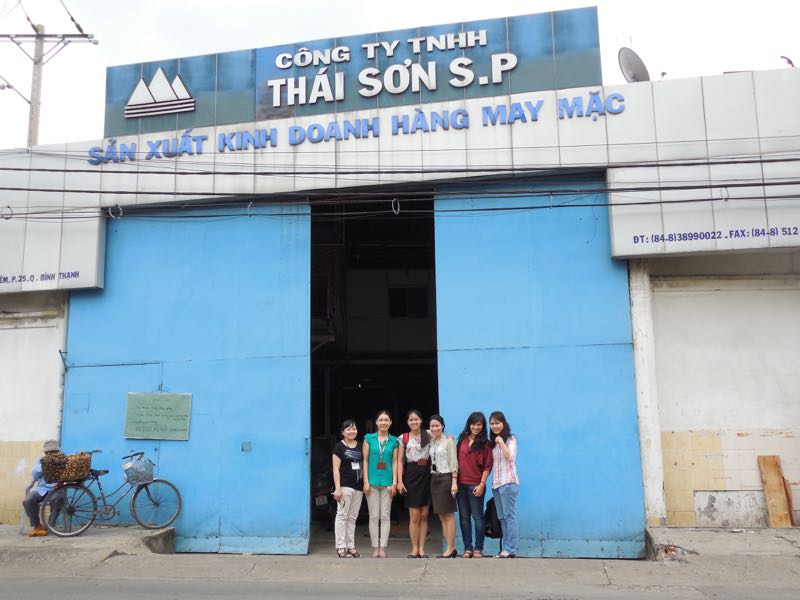 This is the front entrance to our main offices in town. When you come to visit our merchandising team please look for these tall blue doors. The numbers on the street are not dependable. Your taxi driver will get lost if you try to find 153/11H Ung Van Kheim - look for the blue doors. Photos of Vietnam garment factory in Ho Chi Minh city.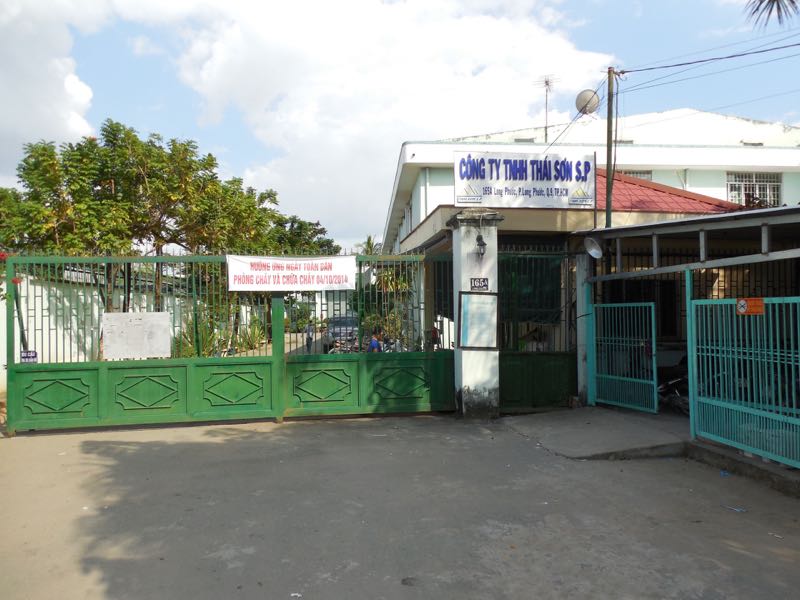 This is the front entrance to our main production facility in district 9 which is 40 minutes from the Sheraton Hotel in district 1. We have fifteen sewing lines and 2 samples lines at this location. Your third party inspection team will come here to do the final inspection.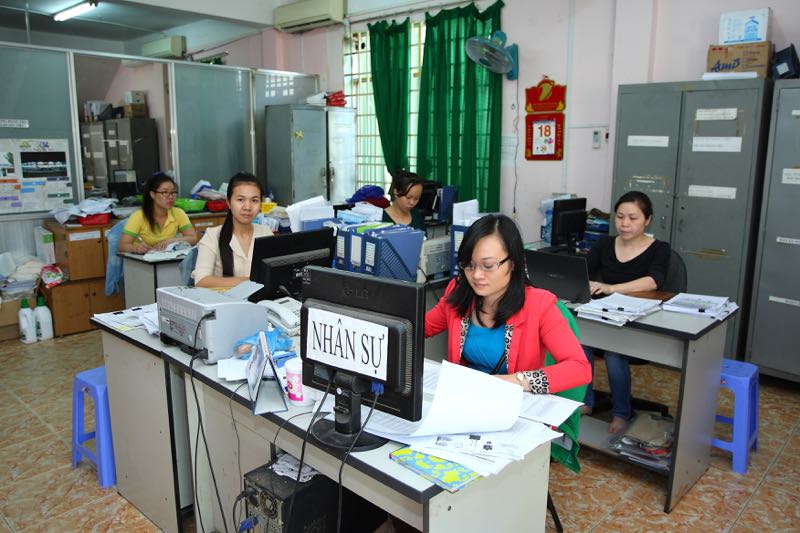 This is our front office at our production facility. You will meet with Sean or Nhu for a factory tour or inspection. They manage all the supplies that come in and out of the factory as well as the staff.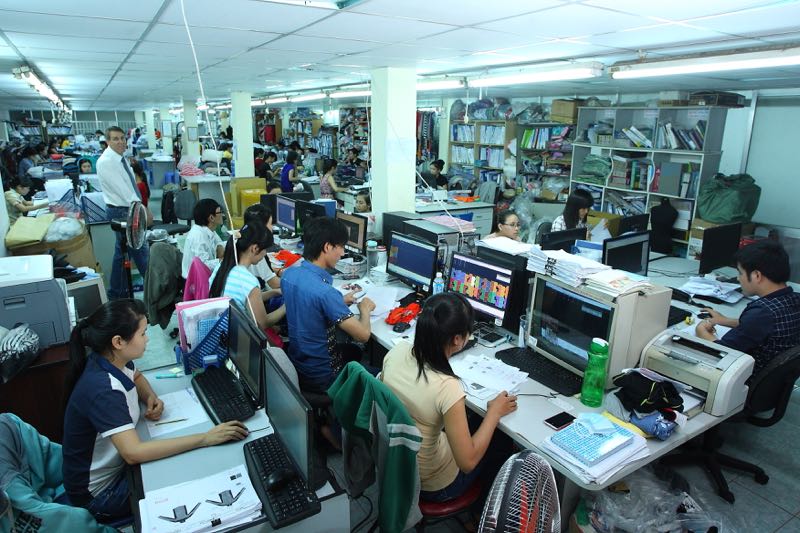 This is our merchandising team. Specifically, here you can see the pattern and marker team using Gerber Accumark to get the best consumption possible. Do you believe these Photos of Vietnam garment factory in Ho Chi Minh city are real? If no, come visit us to see in person.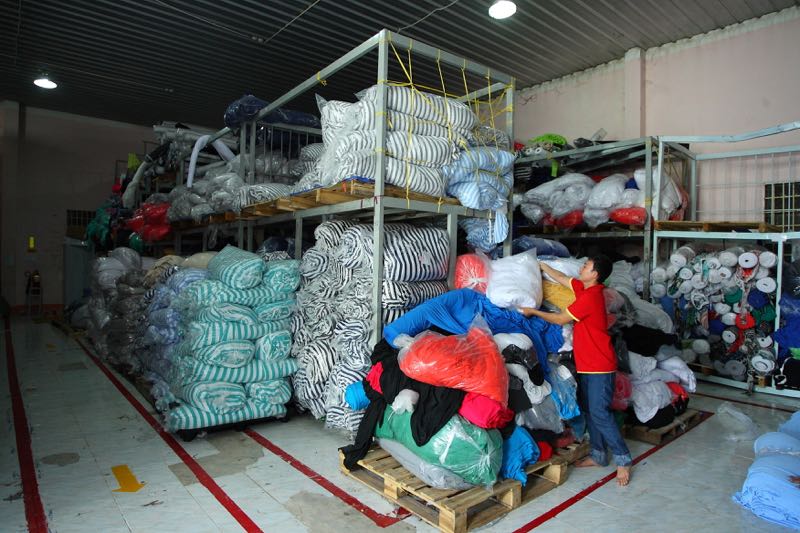 This is our fabric warehouse where we relax the fabric before it goes for inspection. We produce circular knitted cotton blended fabrics with weights from 110 gsm to 420 gsm. Single jersey, pique, interlock, rib, french terry or ponte roma.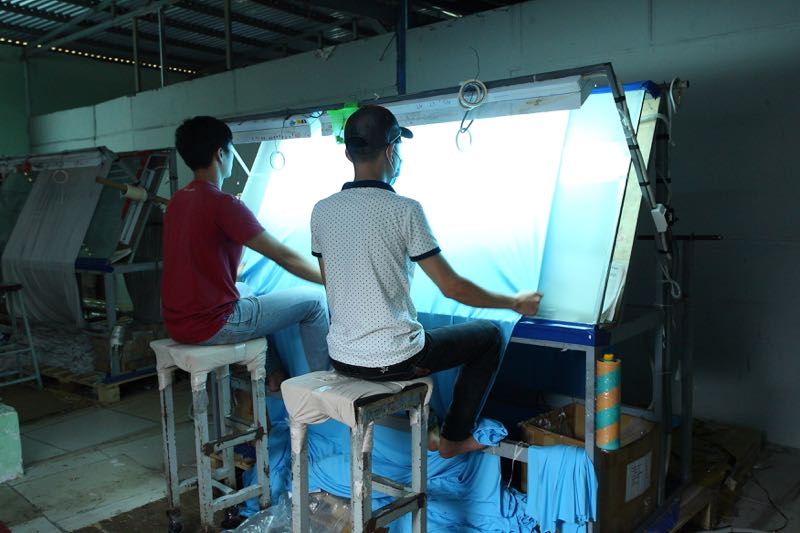 We inspect the fabric before it goes to the cutting tables. If it fails the initial inspection of 20% then we inspect 100% before cutting. The staff mark defects with tape to prevent the pieces from being used during sewing.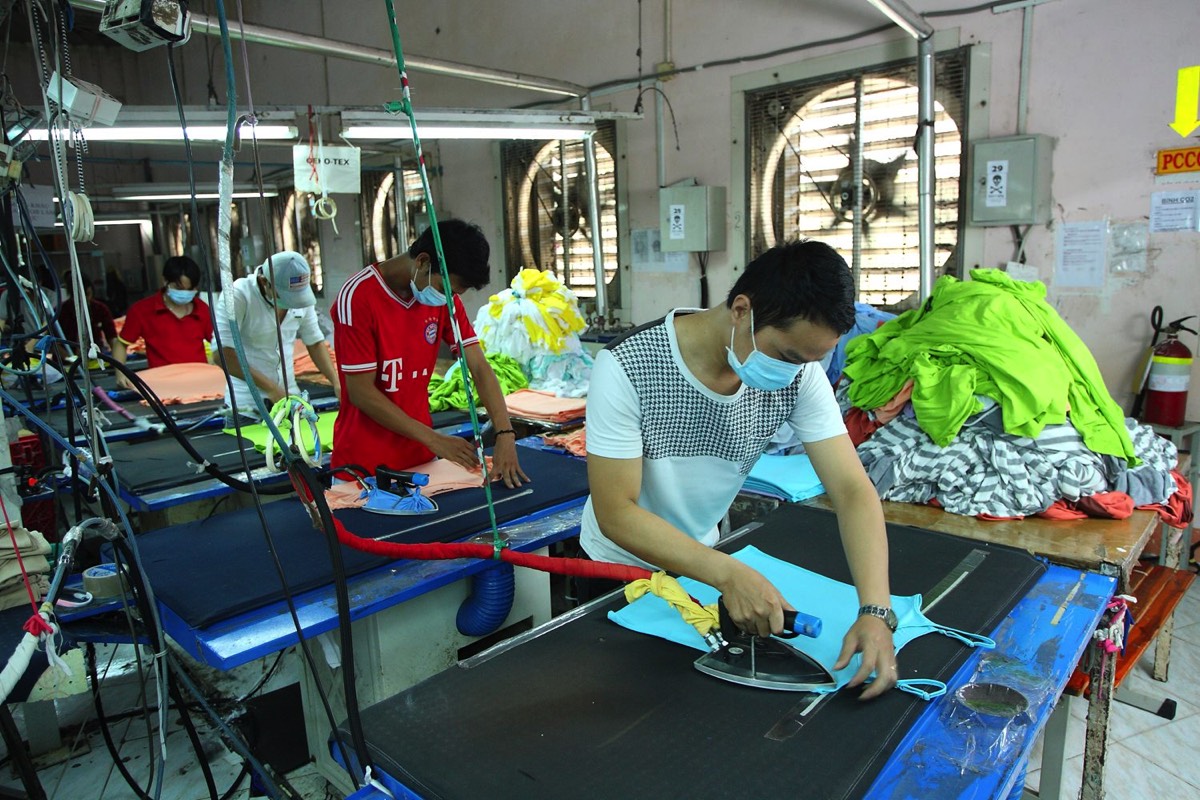 Please give me details about your background and manufacturing objectives.

1. Which styles do you want to manufacture first?
2. Do you have tech packs?
3. Do you have any special factory requirements?
4. Have you produced before? If yes, then in what country?
5. What quantity per style per color do you order?
6. Does your company have a website?
7. Do you want to work with an agent or directly with the factory?
8. Do you plan to visit Vietnam?
Apparel Production Advice
Sewing Factory Introductions by Email
Garment Factory Visits
Tech Pack and Sample Creation
Fashion Start-up Business Planning
Garment Industry Experts in Vietnam
Hi my name is Chris. I prepare you to work with base layer manufacturers in Vietnam. My first experience with base layers was promoting Thai Son S.P sewing factory who bought fifty flat lock machines and spent a whole year training their staff and adjusting their machines to get it right. They made for brands like Voelkl and North Face. Since then I have met many other factories in Vietnam that have flat lock machines and experience producing base layer apparel. I can introduce you to them and help you every step of the way including quotation, sampling and production. I work with a team of merchandisers and sourcing assistants. If you need more than just a referral we can offer other support services:
• Consulting
• Factory introductions
• Factory visits
• Costing (getting a price quote)
• Design and merchandising
• Quality control
• Factory audits/assessment
• Hosting (renting a desk in our office)
• Staff recruiting
• eBooks
Chris and Sim are Garment Industry Experts in Ho Chi Minh City
Sim is a garment industry expert in Vietnam more so than me. Hi, my name is Chris and this website belongs to me and Sim. She is the Sales Manager at Thaison Knitwear Co. I am the marketing manager. We got married in 2009 and have been working together since then.

She and her parents have been producing knitwear for more than 22 years. It is because of Sim that I, Chris, got into the garment business. I still remember clearly the day she taught me the difference between knit and woven fabric.

I have been honing my skill set as a Vietnam garment industry expert for the last eight years; learning from my Sim everyday, making my own contacts around Ho Chi Minh City and studying on my own. I started a website called Vietnam Garment Insider that shares knowledge and advice with fashion designers and entrepreneurs. I strive to be a garment industry experts in Vietnam along side Sim.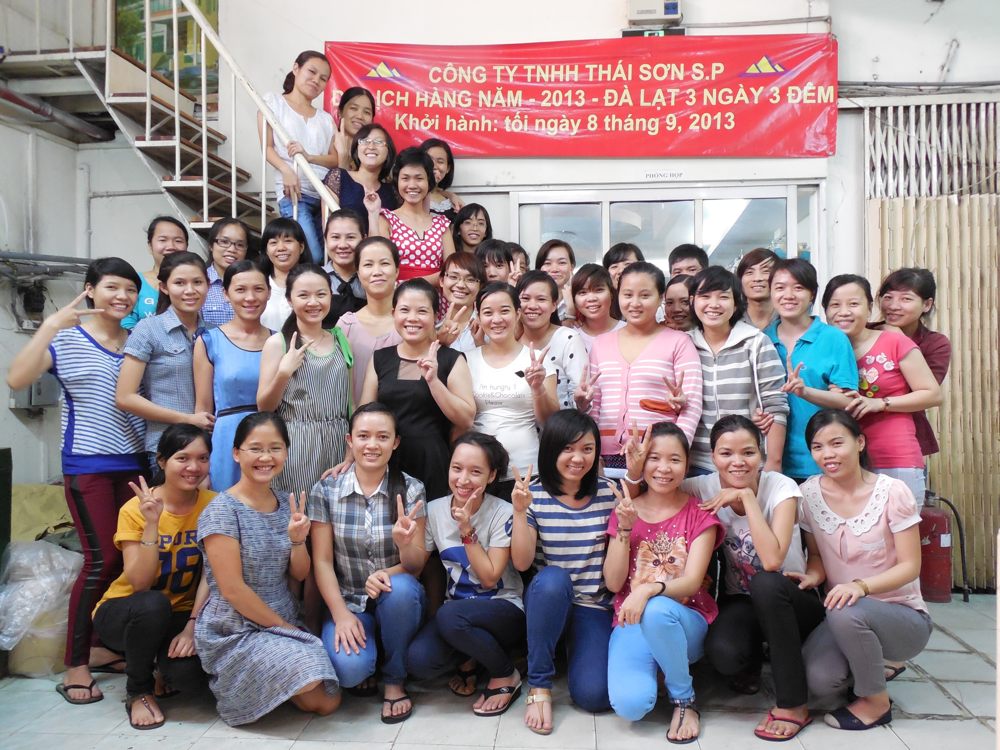 Ultimately our goal is to produce your garments in Sim's factory. If your garments are not appropriate for Sim's factory then we will try my best to help you. For starters we need details of what you are interested in and we will do our best to help you.

Are you producing knit or woven garments? Do you have tech packs? What quantities are you thinking of producing? How quick do you need delivery? These are questions we will ask you?

One way we can help you is to introduce you to people within our network. Here is one example of a person we trust that can help you with Jeans.
About Thai Son S.P Clothing Manufacturer
Thai Son S.P Co., Ltd is a clothes manufacturer with the latest manufacturing technology for men's, women's and children's knitwear. Thai Son also produces cotton based fabrics knitted in single jersey, pique or French Terry structures. The fabrics and prints can be Oeko Tex Certified. They are garment industry experts in Vietnam.

If you need sportswear using flat lock seams, Thai Son S.P clothing manufacturer has 43 4 needle 6 thread sewing machines.

Thai Son is highly specialized in producing fashionable garments from knit fabric that have difficult embellishments like stones, appliqué and embroidery. Thai Son is proud to proud to be one of the family-owned garment supplies who have been surviving and developing for the past 22 years.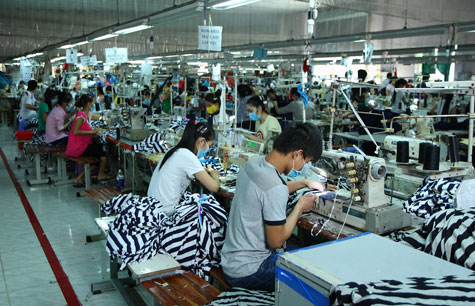 Currently, Thai Son has two production facilities in Ho Chi Minh City and employ 500 people. Thai Son has been producing knit wear garments for export customers for more than 22 years and knows how to take care of their customers to get repeat orders.

If you are looking for garment industry experts in Vietnam and a Oeko Tex Certified Garment Factory in Vietnam then contact Thai Son via their website.
Jeans Garment Industry Experts in Vietnam
My name is Maksym Sukhanov. I'm Ukrainian. I have lived in Vietnam since 2001.

I'm garment sourcing agent specialize in jeans. I connect garment buyer and factory. I follow up order productions and other issues such as documents, shipping from A to Z.

I think 90 percent of jean fabrics need to be imported outside Vietnam at the moment. Although Vietnam has some local mills but they are still not competitive.

Washing is important not only for jeans but also for woman pants and others like twill. Anyway, washing is the most important part of jeans. It can change the look of the pant one hundred percent. At the moment, you can find get any kind of washing in Vietnam.

Vietnam can handle small quantity order such as 50 pieces of jean easily because their aim is to produce for local marketing and export to different countries. Those manufacturers usually keep their fabrics in stock. I like working in Vietnam because garment and fashion industry here is developing a lot.
How to find your import duties from Vietnam to USA
Step 1 is to figure out what is the HS Code of your product. Step 2 is to look up your HS Code in the Harmonized tariff schedule. You will see the duty rate listed next to your HS Code. Done. Sounds easy right? Like putting socks on a rooster. The safest thing to do is hire a certified customs broker who classifies many products every day. The problem is, customs brokers will only do a classification for you if you are a lucrative client shipping containers on a regular basis. That's how they make their living. So what can you do? Sail out into the open ocean yourself, do your own classification, let me chart the way for you.

First thing you need to keep in mind is that when your goods get to the USA port, it's the US Customs and Border Protection (CBP) officer that will either approve or disapprove the HS Code classification declared on the shipping documents. Their job is to make sure you pay the right import duty. If the CBP decides your classification is wrong then you risk delaying the delivery of your goods and being labeled as an offender which could delay future shipments. You will have to pay the remaining tax to get your goods released. If you are caught incorrectly classifying your product, your certified customs broker who made the classification for you, has their neck in the guillotine too. They can have their license revoked and be out of work if they are caught multiple times classifying products with low taxes. The broker can petition the decision to save their neck but they waste time petitioning and time is money - lost.

Here is what the classification hierarchy of round grain husked rice looks like.

Try yourself. It will take you 10 minutes. I will show you exactly what to do. Some products are straight forward and easily classified.

1 Go to this CBP webpage and download the Full Document of the Harmonized Tariff Schedule. https://hts.usitc.gov/current
2 Search pdf document for Husked (brown) rice and you will see the duty rate.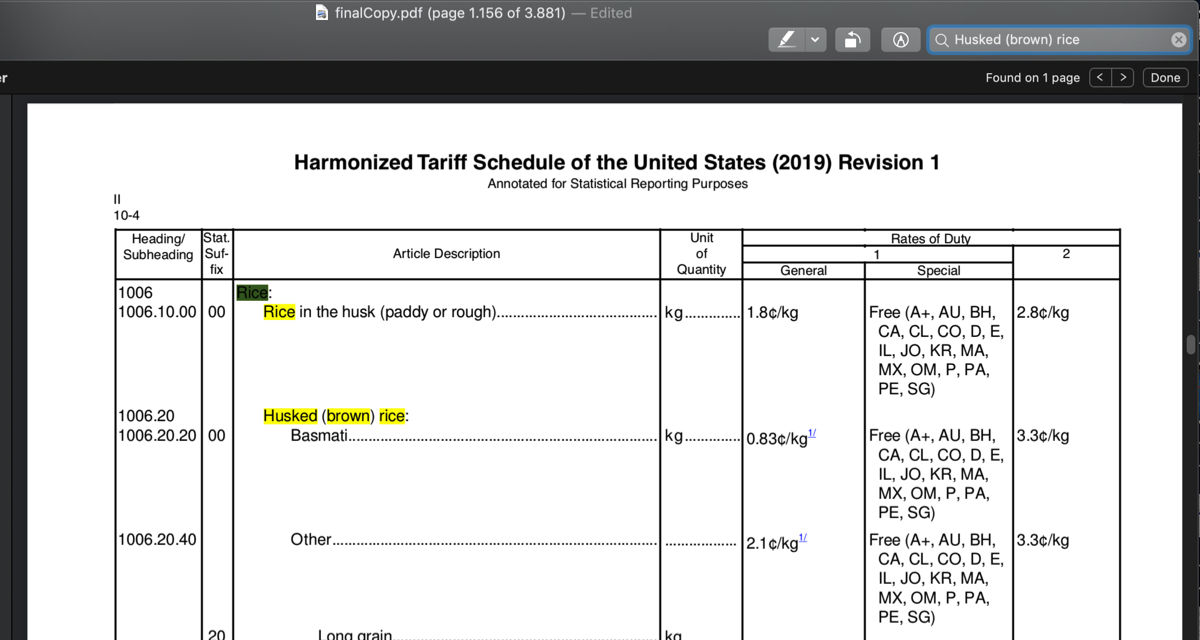 In fact it is not that easy for most products because most products are composed of different materials. For example a t-shirt that made with cotton, viscose and spandex or a piece of furniture with metal, wood and plastic. It takes experience to know which classification yields the lowest duty rate and will be accepted by the CBP. Also, do you see the column labeled "special?" Figuring out how to benefit from he "special" takes time and know-how. This is the reason I recommend you hire a licensed customs broker to help you out.
There are 14,454 active licensed Customs brokers in the United States. They must pass an open book test with 80 multiple-choice questions testing their knowledge of The Harmonized Tariff Schedule of the United States (HTSUS), Title 19, Code of Federal Regulations, Specified Customs Directives and Customs and Trade Automated Interface Requirements document (CATAIR). If you can't find one to help you then you can also tap into the CBP resources.
This website provides U.S. merchandise trade and tariff data in a user friendly web interface.
https://dataweb.usitc.gov
You can also request a ruling from the CBP via this webpage:
https://erulings.cbp.gov/home
If you are willing to pay me then I can get the classification done for you.
Please contact me for more information.
News: Cambodian workers get higher wages.
That's $128 per month and it does not allow working in the city of Phnom Penh to live above the poverty line. $177 per month which is why garment workers are protesting.

Government officials wanting to win the votes are lending an ear to the protest given that 2017 elections are around the corner.

Big players in Cambodia like H&M, Adidas and Levis all support paying wages that are fair and allow workers to live above poverty. Naturally factory owners and government officials are cautious. They note that after the global financial crisis in 2008, buyers pulled orders from Cambodia and increased them in Bangladesh where wages, and production costs, are lower. There is a fine balance between increasing local wages and maintaining competitive advantage on the world stage.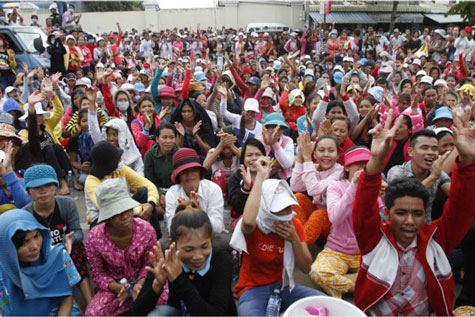 The number of strikes at garment factories is increasing in Cambodia according to Figures published by garment manufacturers association of Cambodia showed the number of strikes at Cambodia's garment factories during the first three months of this year rose nearly 74% on the same period in 2014. The Association's member companies logged 40 strikes between January and March this year. In 2014 there were just 23 strikes in the same period.
For the time being Cambodian garment workers are earning $128 per month and perhaps before 2017 they will earn $177 per month.
Source:
Khmer Times Online
, Retrieved June 22, 2015