Hi, I am your go-to guy if you want to get things done in Vietnam. Using my insider knowledge and connections I hold your hand from the first contact right through to production. May I help you connect with flat bed screen printers in Vietnam?
Chris Walker
Vietnam Production Insider
Ho Chi Minh City, Vietnam
Ebook Author
Flat Bed Screen Printing in Vietnam
This flat bed screen printing factory in Vietnam produces 20,000 meters/day. They have 4 x 12 color machines managed by 100 workers. They have been in the business for 15 years. They get their inks locally - mostly Korean or Taiwanese inks. The print using water based inks both direct and reactive. Their MOQ is 3,000 meters and the price is approx. $2.5/kg. They can print on both cottons and polyester fabric. They print their own films and make their own screens. They have both washing and drying equipment. Thai Son S.P recommends them as the best Flat Bed Screen Printing factory in Vietnam. Because Thai Son S.P has good relations they can do as little as 1,000 yds MOQ.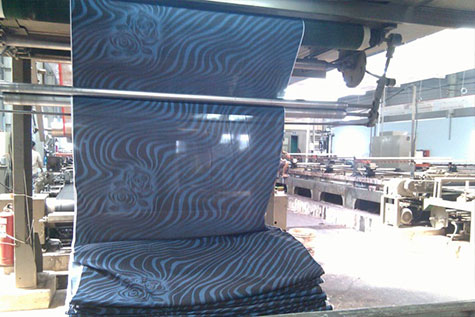 Hi my name is Chris. I prepare you to work with base layer manufacturers in Vietnam. My first experience with base layers was promoting Thai Son S.P sewing factory who bought fifty flat lock machines and spent a whole year training their staff and adjusting their machines to get it right. They made for brands like Voelkl and North Face. Since then I have met many other factories in Vietnam that have flat lock machines and experience producing base layer apparel. I can introduce you to them and help you every step of the way including quotation, sampling and production. I work with a team of merchandisers and sourcing assistants. If you need more than just a referral we can offer other support services:
• Consulting
• Factory introductions
• Factory visits
• Costing (getting a price quote)
• Design and merchandising
• Quality control
• Factory audits/assessment
• Hosting (renting a desk in our office)
• Staff recruiting
• eBooks
I work together with the Seditex Team
This website belongs to
Thai Son S.P garment manufacturer based in Ho Chi Minh city Vietnam.

Thai Son S.P is a family owned FOB garment manufacturer that has been in the producing garments for 22 years. They have two factories.

They offers both roller and flat bed screen printing in Vietnam.

Thai Son S.P is not a flat bed screen printing factory in Vietnam. They are a sewing factory that outsources screen printing.
Thai Son S.P knits fabric, sources trim, sews your garments and delivers the finished goods to Saigon ports where your freight forwarding company picks up.

They follow your spec sheets and produce according to your designs. They offer one FOB price.

If you are looking for a flat bed screen printing factory in Vietnam then Thai Son knows many to get your order processed.

Their strength is men, women and children knitwear garments that have embellishments like embroidery, prints, appliqué, sequins or stones.

They can do water based prints, discharge prints and plastisol prints easily.

They can make difficult fashion styles as well as base layer basics… any style as long as you use circular knit fabrics like jersey, interlock, pique, rib etc…

Wether piece print or all over print (AOP) Thai Son S.P knows all the screen printing factories in Vietnam.


Are you sourcing a flat bed screen printing factory in Vietnam?

If yes, then contact us below with your inquiry.
Are you a start up fashion brand?
If you are new to working with Vietnamese clothing manufacturers then I recommend my book as the perfect place to start. I discuss 16 questions you need to ask yourself and be able to answer before meeting with factories. I share insider tips about culture and language as well as make referrals to my network in Vietnam. Here is what one reader shared with me after reading my book.
I did not expect to find so many hard facts backed up with real contacts for products and services in the industry. Usually people do not give away easily this hard earned information which is garnered over many years of work.
Brian Darby