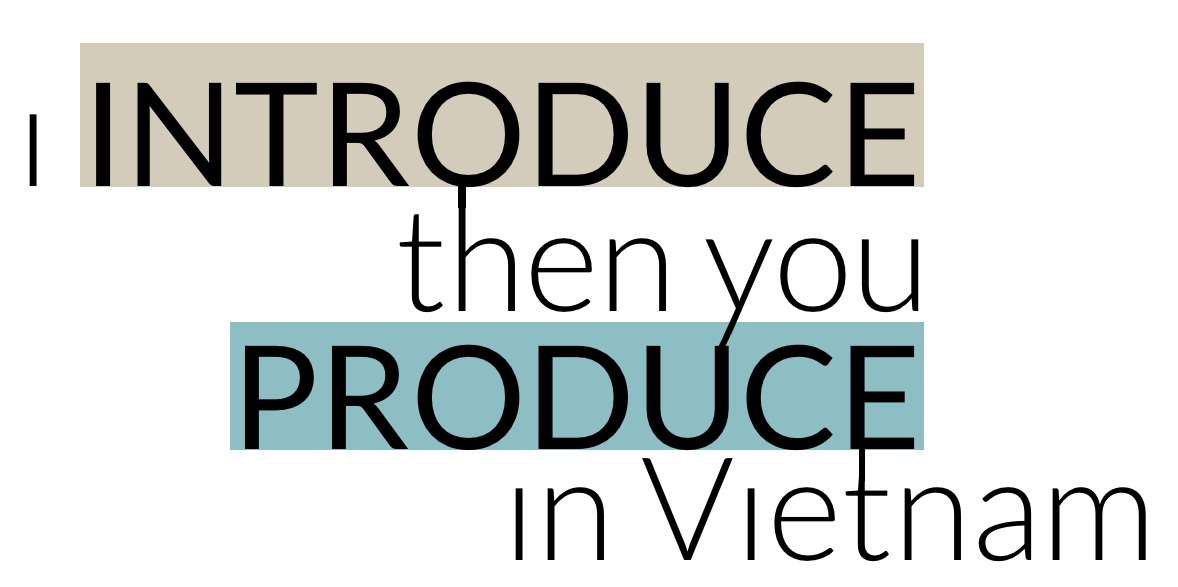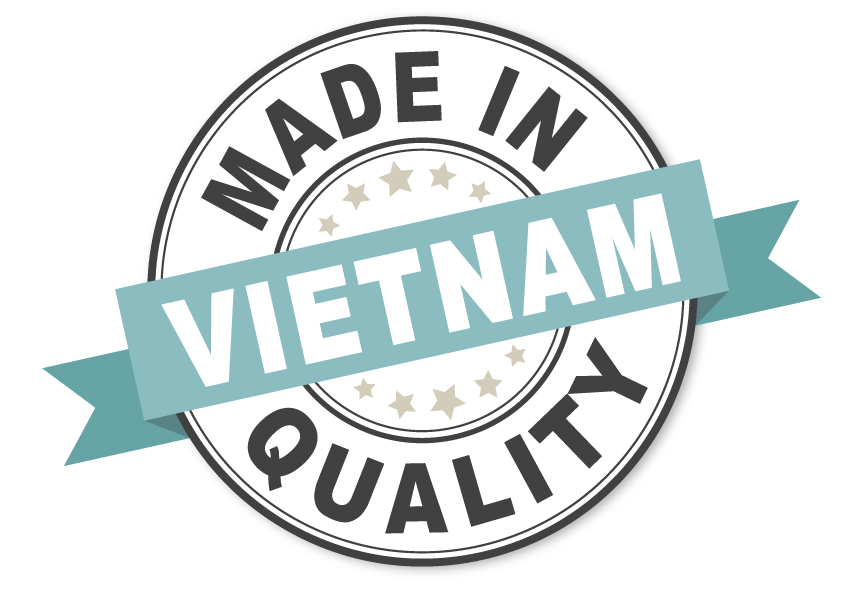 How Can I Serve You in Vietnam?
Hi, I built this webpage to promote Thai Son S.P Sewing Factory based in Ho Chi Minh City. They know dye sublimation in Vietnam. I can introduce you to them and many other factories.

My name is Chris, I have been working in the Vietnam Garment Industry since 2008. My expertise is advising fashion start-ups and sourcing factories. If you have any questions about Vietnam garment manufacturing then contact me here. Are you looking for dye sublimation in Vietnam?
Chris Walker
Ho Chi Minh City, Vietnam
VSource Co., Ltd.
Dye Sublimation in Vietnam
Dye Sublimation in Vietnam on garments is an alternative to screen-printing. You create an image on your computer and print it onto special transfer paper using sublimation inks. Then place the transfer paper and synthetic fabric into a heat press. The heat-press presses the transfer paper against the fabric at 230 degrees Celsius and causes the sublimation inks to "transfer" from the paper to the synthetic fibers i.e. polyester or nylon. After about a minute, the heat is removed and the transfer paper is peeled off, leaving behind a permanent, full color image on the fabric.

So, in summary, there are two steps to sublimation printing: step 1 is using digital printer to print your artwork on transfer paper, step 2 is to "heat press transfer" the design from transfer paper to fabric. Most companies doing dye sublimation in Vietnam use this method.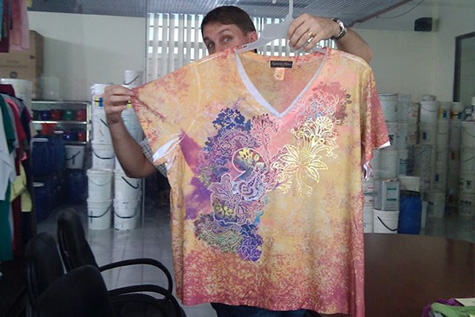 Read -> Learn -> Then contact the factory.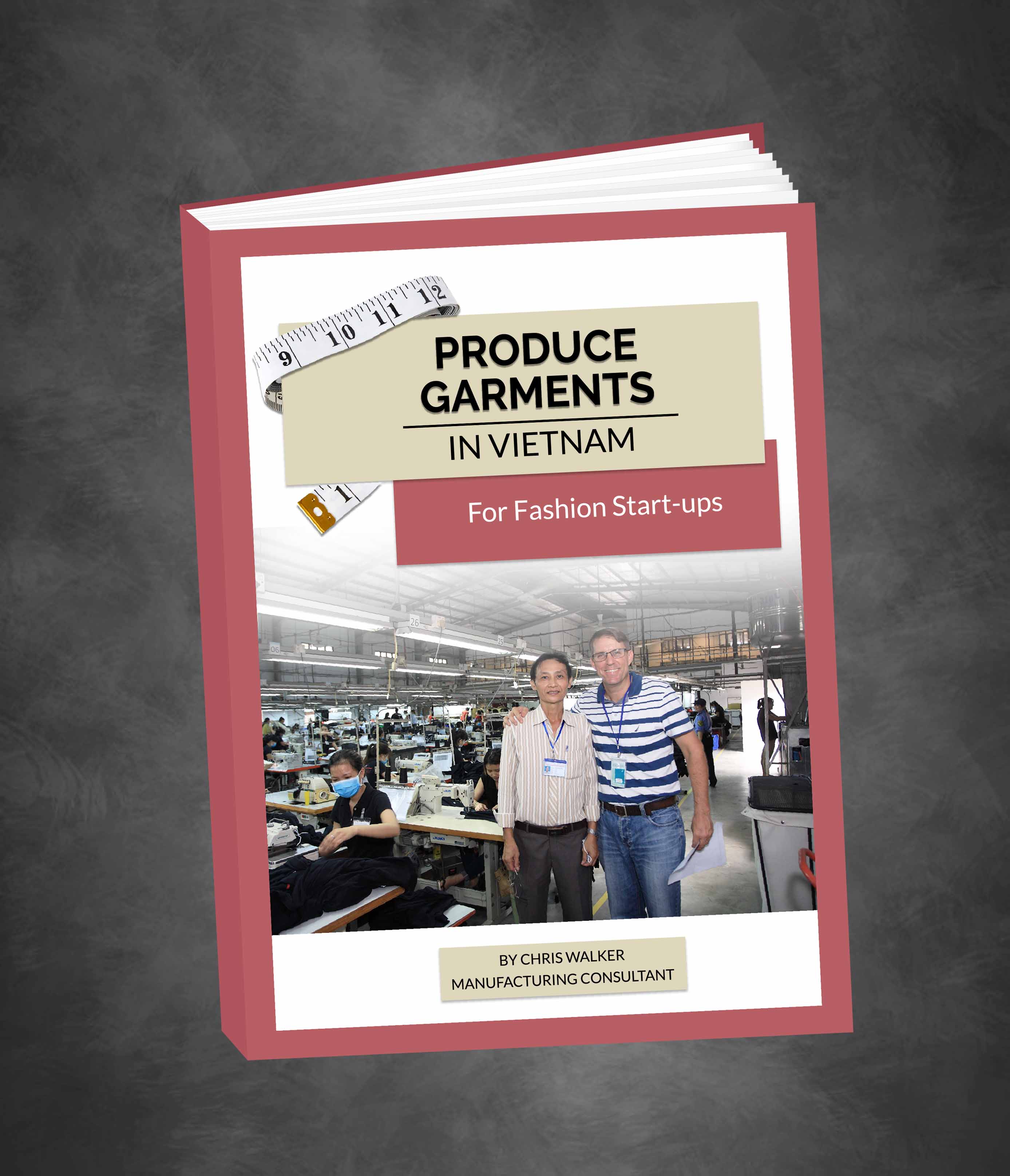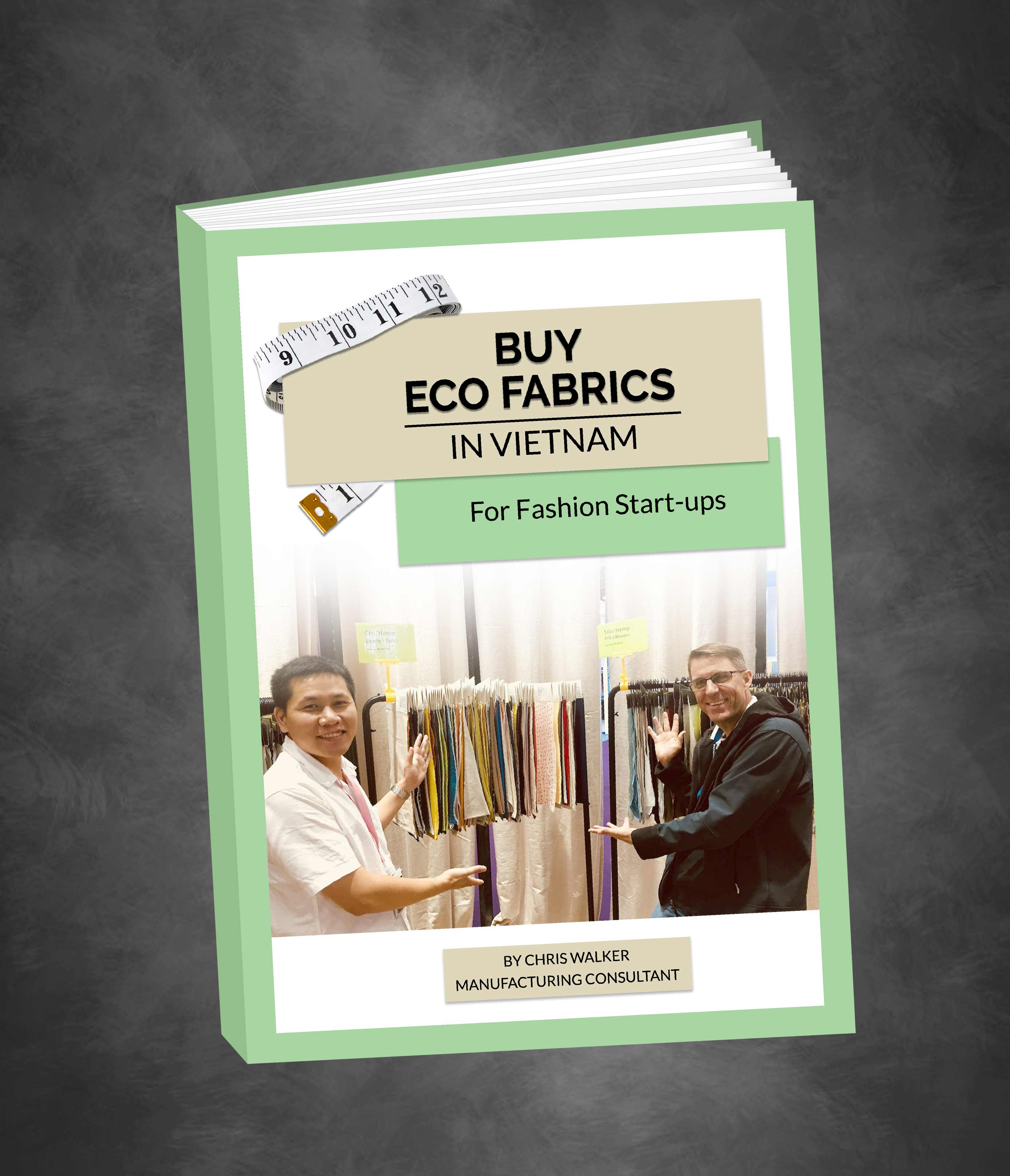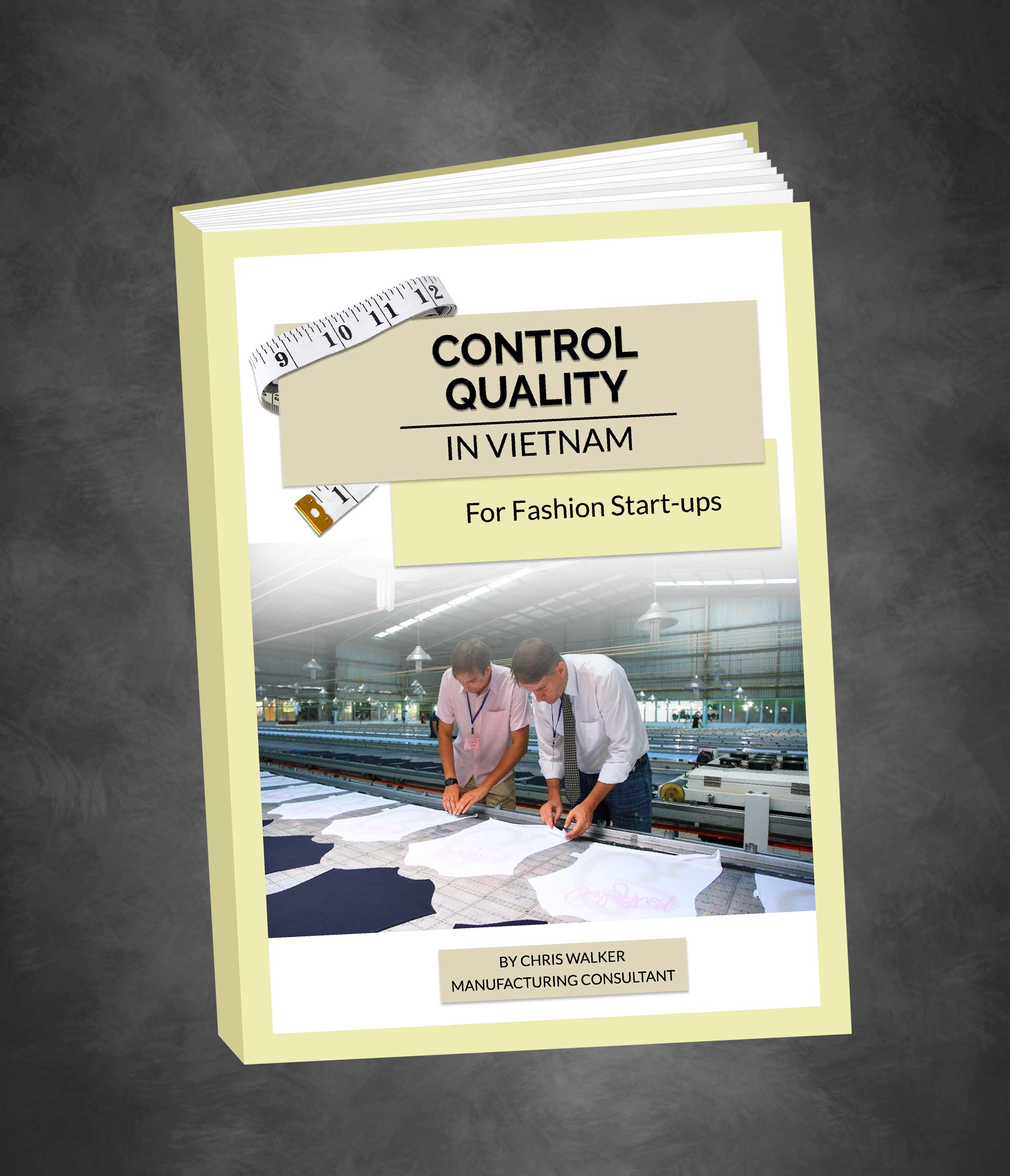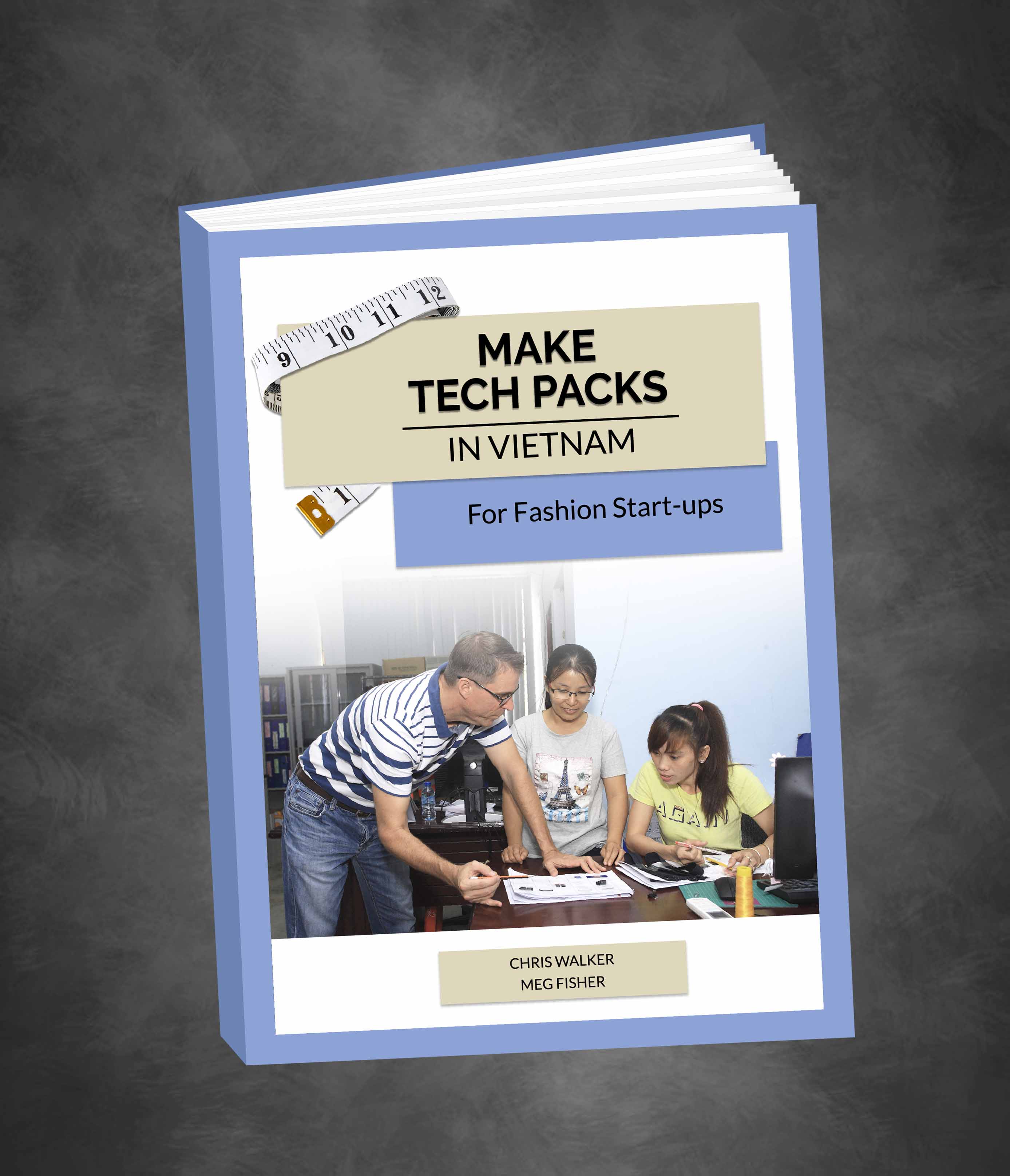 I wrote these books during my first few years
(@ 2008) working in the Vietnam garment industry. I write about basic knowledge and insider tips that I learned - to share with you.
If you are just starting out and need a jump start then I recommend you read my books before contacting factories.
For example, it is critical to know basic things like what is the difference between woven and knit fabric; what is different about viscose, rayon, tencel, modal and hemp; and what is the Acceptable Quality Level system?
There are two companies in Vietnam who use offset printing to print on transfer as opposed to using digital printers. Using the offset printing method requires the use of aluminums rollers that lead to high set up costs. Hence the offset printing method is only economical for high volume production; for example 10,000 pieces per design.

Definitions

To better understand how sublimation works its necessary to first become familiar with the key terms associated with the process.

Sublimation is the change of a solid particle directly into a gaseous state. The sublimation inks are heated rapidly such that they instantly expand into a gas state and easily penetrate the fibers of the yarn. This is why the dye sublimation in Vietnam has good color fastness properties.

A dye is a substance used to color materials and fibers. To dye is to impregnate color into a material. Often, this color change is permanent. In comparison, pigment inks, such as those used in screen-printing, are applied to the surface of a fabric.

A polymer is a chemical compound made of small and identical molecules (called monomers) linked together. To sublimate print on hard surfaces you need a special polymer coating that "opens" to accept colored dyes when heated to 230 Degrees Celsius and then "closes" to trap the dyes when cooled. Some polymers, such as cellulose, occur naturally, while others, such as nylon, are man-made. To sublimate print on cotton or other natural fibers you need to apply a polymer first.

Substrate is a term used to describe the base material onto which images are printed. Typical substrates include fabrics, plastics, metal, films and foils.
This factory specializes in dye sublimation printing in Vietnam. I visited them today and saw their screen printing operation as well as their foil print capabilities and sublimation samples. They are also doing burnout which looks really great with printing on top.
Thai Son S.P is good at Dye Sublimation in Vietnam
Reason is that they know who is doing what kind of sublimation in Vietnam. In fact dye sub in Viet Nam is behind China and Thailand hence there aren't many good options here. The quality of dye sub is improving each year and Thai Son S.P merchandising team is constantly updating their supplier list.

Thai Son S.P Co., Ltd is a clothes manufacturer with the latest manufacturing technology for men's, women's and children's knitwear. Thai Son also produces cotton based fabrics knitted in single jersey, pique or French Terry structures. The fabrics and prints can be Oeko Tex Certified. They are an Oeko Tex Certified factory in Vietnam.

ASV has works closely with Thai Son apparel factory in Vietnam. They are a Oeko Tex certified garment factory in Vietnam. Thai Son is highly specialized in producing fashionable garments from knit fabric that have difficult embellishments like stones, appliqué and embroidery. Thai Son is proud to proud to be one of the family-owned garment supplies who have been surviving and developing for the past 22 years.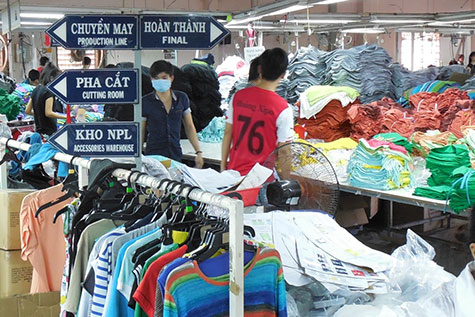 Currently, Thai Son has two production facilities in Ho Chi Minh City and has 20+ sewing lines combined. Thai Son has been producing knit wear garments for export customers for more than 22 years and knows how to take care of their customers to get repeat orders.

If you are looking for Dye Sublimation in Vietnam and a Oeko Tex Certified Garment Factory in Vietnam then contact Thai Son via their website.
Please give me details about your background and manufacturing objectives.

1. Which styles do you want to manufacture first?
2. Do you have tech packs?
3. Do you have any special factory requirements?
4. Have you produced before? If yes, then in what country?
5. What quantity per style per color do you order?
6. Does your company have a website?
7. Do you want to work with an agent or directly with the factory?
8. Do you plan to visit Vietnam?
Apparel Production Advice
Sewing Factory Introductions by Email
Garment Factory Visits
Tech Pack and Sample Creation
Fashion Start-up Business Planning
This website belongs to
Thai Son S.P garment manufacturer based in Ho Chi Minh city Vietnam.

Thai Son S.P is a family owned FOB garment manufacturer that has been in the producing garments for 22 years. They have two factories.

Thai Son does not do dye sublimation in Vietnam. They outsource it depending on the kind of sublimation you need.
Thai Son S.P knits fabric, sources trim, sews your garments and delivers the finished goods to Saigon ports where your freight forwarding company picks up.

They follow your spec sheets and produce according to your designs. They offer one FOB price.

Thai Son knows who does dye sublimation in Vietnam which gives them flexibility depending on your needs.


Their strength is men, women and children knitwear garments that have embellishments like embroidery, prints, appliqué, sequins or stones. They can make difficult fashion styles as well as base layer basics… any style as long as you use circular knit fabrics like jersey, interlock, pique, rib etc…

They can source polyester fabric using ringspun DTY or rotorspun FDY poly yarn. They can get you the hand feel you need and quality of dye sublimation you require.

Are you sourcing dye sublimation in Vietnam?

If yes, then contact us below to learn more about the state of sublimation printing in Vietnam.